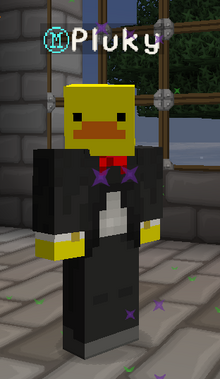 /Pluky (Formerly PlukyDucky8) joined Acid Mines in January 2014 and is moderator.
He is known for his quit wit and random quotes about door carvers.
He was the runner up in the screenshot competition his town Plukyton at /warp Plukyton in April 2015.
Pluky is known for his works at "DabiDucky Tower", "Space Invader Pyramid" and "Acid Mines Airport" /warp airport.
Pluky is always up for an on-line chat!