Fishing Competition
Edit
The contest runs for a week, From late January until early February every year.
☀To compete, type /warp fish It is possible to catch every type of fish in this area.

Only fish caught in the fishing dome will count towards the contest.
You must also use the special contest rod to receive a score. This ensures that everyone has an equal chance. The contest rod will not work outside of the contest.

You will gain XP during the contest and the fish you catch will count towards your /fish list.

Points for catching fish are added up automatically.

Commands:
/afish rod - Get a contest rod
/afish score - View your score
/afish score top - View the top scores


Bonus points will be awarded at the end of the competition.

Bonus points will be awarded for:
* Catching a complete set of fish
* Catching more of a type of fish than other players

Bonus points can change the scores dramatically, so they could definitely be worth going after.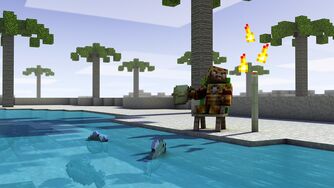 Prizes 2016 Edit
Participation:  Emeralds RP TH Keys Booster Pack Fishing XP (amounts depend on the effort put in - higher score means more rewards)
3rd Prize:  25k Fishing XP 50 Rewards Points Double XP - 4 Hrs 10 Treasure Keys Booster Pack (7 super, 2 holo, 1 ultra) 96 Emerald Blocks (valued over 150k)
2nd Prize:  50k Fishing XP 100 Rewards Points 2x Double XP - 4 Hrs 15 Treasure Keys Booster Pack (4 super, 5 holo, 1 ultra) 160 Emerald Blocks (valued over 250k) A good fishing rod
1st Prize:  100k Fishing XP 200 Rewards Points 3x Double XP - 4 Hrs 30 Treasure Keys Booster Pack (10 holo) Booster Pack (8 super, 1 ultra, 1 uber) 320 Emerald Blocks (valued over 500k) Special Fishing Rod Blue name in chat Blue name above head ⓒ Competition prefix
The winner gets to create their own fish; type of fish, name and location.
Winners:
Edit
2015 Winner - Mason: 446,835 points.
2016 Winner - FaZeD_PaNdA: 531,711 points.
Ad blocker interference detected!
Wikia is a free-to-use site that makes money from advertising. We have a modified experience for viewers using ad blockers

Wikia is not accessible if you've made further modifications. Remove the custom ad blocker rule(s) and the page will load as expected.