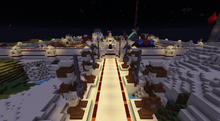 Chukazuma Edit
/warp cz
Designed & built by Frothington Constructions.
Chukazuma is a desert themed town that players can buy shop & house plots. This town features a horse racing track to the west, a ship dock to the east and a short distance to the south is Frothlands. It also has an Agility Skill course.
back to Places
Ad blocker interference detected!
Wikia is a free-to-use site that makes money from advertising. We have a modified experience for viewers using ad blockers

Wikia is not accessible if you've made further modifications. Remove the custom ad blocker rule(s) and the page will load as expected.